SOUTH EAST ASIA – 2006
Tuesday 14th February: Phnom Penh – Saigon ( Ho Chi Minh City)
Time to leave Phnom Penh, and I have to say we enjoyed this little city. After Siem Reap we were pleasantly surprised with this place. It has something of an indolent atmosphere and you are well aware of its French colonial past, which comes out in its food and attractive architecture. The riverside plays an important part in this city, and as the Tonle Sap river meets the mighty Mekong river at Phnom Penh it is also quite spectacular.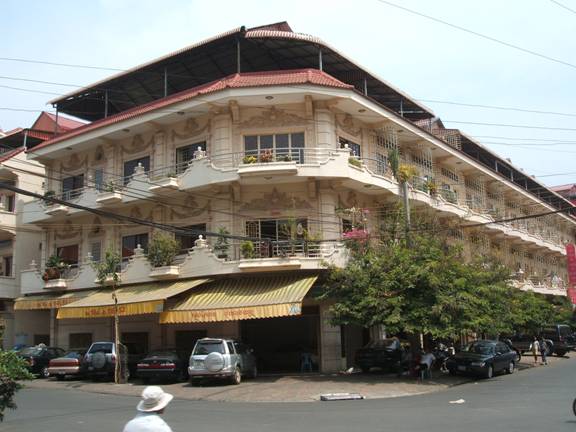 [Typical of the French colonial architecture in Phnom Penh ]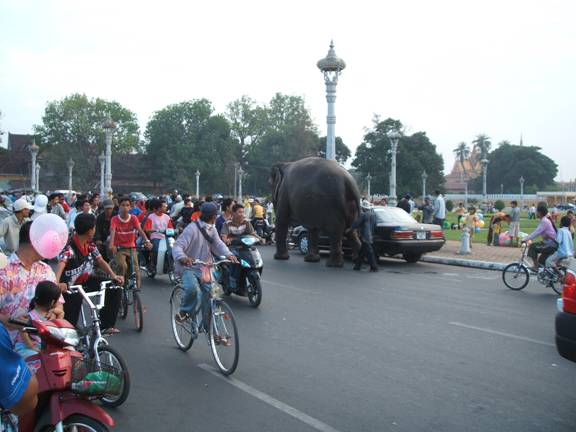 [Everyday traffic in Phnom Penh]
We are advised to use the services of Capitol tours to get ourselves from here to Saigon, as getting across the border from Cambodia to Vietnam can apparently be a nightmare. So we pay our $10, a minibus picks us up at 7.30 am and takes us over to another part of the city. From there we get on the coach and were off. One of the reasons we prefer to go overland rather than fly is so we can see the countryside, and we saw plenty this morning. There are few cars in Cambodia , but lots of bicycles and small motor bikes, so the 4 wheeled vehicles simply hog the centre of the road, with the 2 wheeled vehicles either side. It does get quite interesting when another coach or lorry is coming towards you. Generally speaking the housing you pass is poor, but it is not desperate or depressing as in the north of the country.
We arrive in Saigon at around 2.00 pm and we get off to a good start by getting ripped off by the taxi driver (they're the same the world over). We find a hotel in the Dong Khoi area. Vietnam may well be a poor country at the moment, but not for long. All the major western hotel chains are there, plus the designer shops. Only a few years ago all the cities residents rode bicycles, now you hardly ever see one. They are now all on motorbikes and believe me, there are literally millions of them. This makes life hell for the pedestrians, especially as most motorcyclists do not differentiate between the roads and the pavements. To illustrate the speed of progress, the Rough Guide published in November 2003 states there are over 50,000 cyclos in Saigon (these are basically a type of bicycle taxi) and very few taxis. Just 2½ years on it now certainly appears to be the other way round.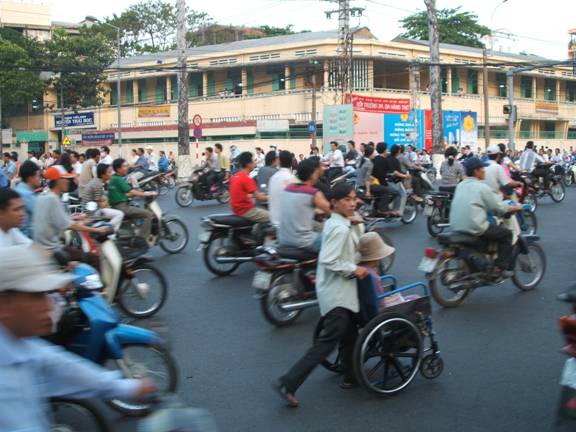 [Every day traffic in Saigon . Interesting crossing the road]
Lovely dinner. I pay the bill, only for the waiter to return to advise that I had actually given him 2 x 50,000 dong notes instead of one, so he gave me the other note back, plus my change. Nice end to the day, but this lad will never make a taxi driver.
Wednesday 15th February: Saigon
The affects of the boat trip from Siem Reap to Phnom Penh have now really taken affect as far as my face is concerned. 5 hours of being pounded by the water, followed by drying off under a baking hot sun, have now qualified me for Michael Gambon's lead role in the Singing Detective. Merrie anoints my face every couple of hours with various potions, but it's no good, my face is falling off.
Over to the backpackers area to sort out our trip around the Mekong delta. We book the 2 day trip. This includes private taxi from our hotel to here, coach to the Mekong , two days on various boats touring the delta, meals, en-suite rooms for the night and even a Sinh Café T shirt. Not bad for £11 each. We disagree with the Rough Guide, this area looks far more fun than Dong Khoi, so we switch hotels and book a very nice little hotel around the corner for our return.
We walk the city and decide to take the guided tour of The Reunification Palace. The original palace was flattened during the war and was eventually rebuilt, to a new design, in 1966. There were telephones, metal filing cabinets, light fittings, etc, from the 1960's. We've never been around a palace like it. It was a bit like having a guided tour of Basildon Town Hall .
Oddly enough, in the evening we have to go to the Post Office. What a beautiful turn of the century colonial building. There cannot be many capital cities where the local Post Office is far more beautiful than the official Palace.
Thur / Fri 16th / 17th February: The Mekong Delta
Today one of life's mysteries was finally answered. How do they make rice crispies? ( see below).
The taxi takes us to the Sinh Café to join the rest of the party. 21 of us including a nice English couple and their daughter. The daughter is resident in Vietnam and lives about 60 south of Saigon , just around the corner from Gary Glitter!
The next 2 days is all about rivers, and not surprisingly the Mekong delta has one hell of a lot of them. By navigating the area by boat (as we did) you start to understand how it all works. Whereas in England our lives revolve around a major motorway system, then A roads, minor roads, etc and perhaps the odd river and canal, in the Mekong it is the exact opposite. It has the major tributaries of the Mekong (which are massive), the lesser tributaries (that are still the size of the Thames ), then lots of smaller rivers. Behind all of this is just the odd road. The delta is not about a town or two that lives by the water, it is about a country that lives, works and does absolutely everything by or on the water. There are many cities that are dominated by their river, like the Bosphorous in Istanbul , but I have never seen a river system dominate an entire country. It is a wonderful world! There are numerous small factories on the water's edge. We visit a number of them, including a fascinating little brick works and pottery factory, a rice processing factory, which has a distillery as a sideline, making the most lethal rice spirit (on sale for 60p a bottle) and also produces rice crispies!
The floating markets are enormous. There's everything from massive tankers, barges and cargo ships (junks), to the farmers boats, even down to ladies weaving in between the big ships in their little boats, selling coffee, French bread, croissants, cigarettes, etc. It's so odd to see river side filling stations every few hundred yards. Most of the vessels are also homes and washing seems to hang from nearly all of the vessels. Virtually every boat has a television aerial. Apart from its rivers, the Mekong has very fertile land and produces nearly all the country's fruit, veg and rice.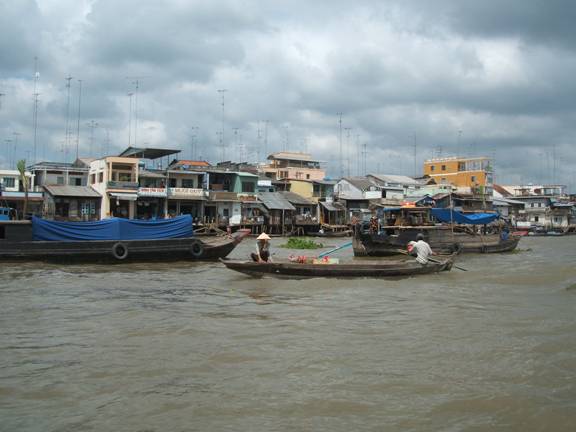 [The brick works]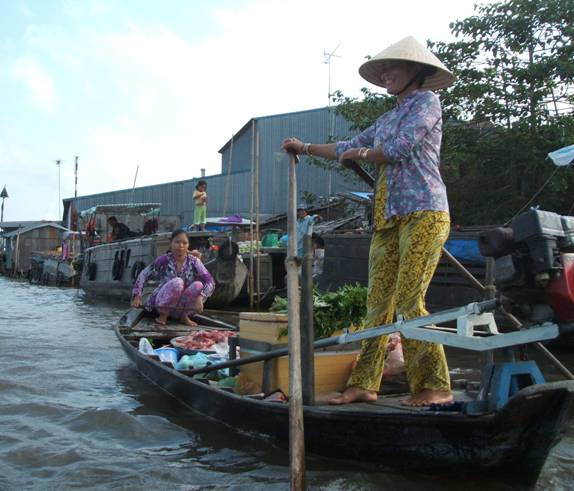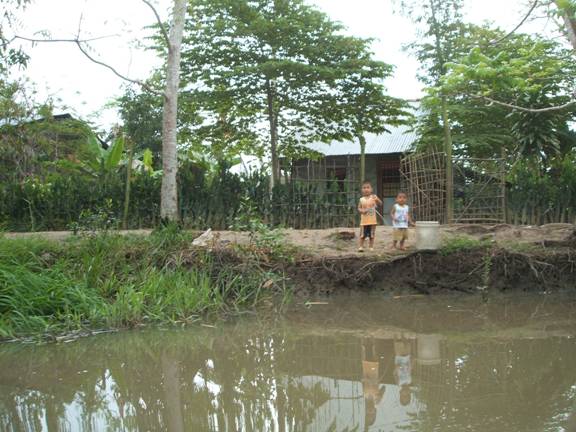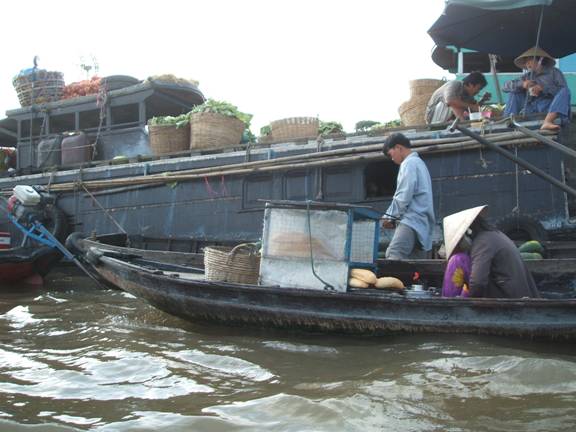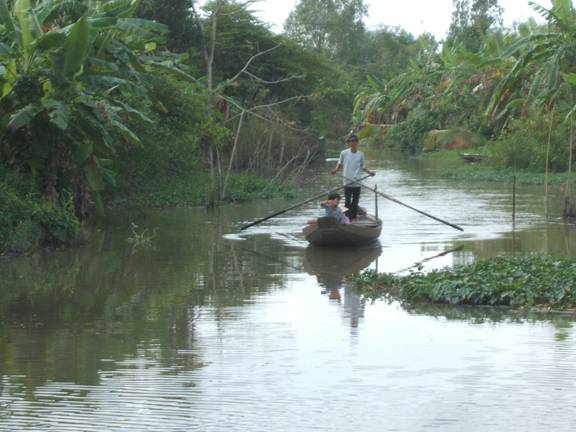 *HOW RICE CRISPIES ARE MADE – You start off with a cauldron of black sand, which is heated to a very high temperature by a roaring fire underneath. You then throw in the rice grains, which initially just disappear into the black sand. But then it all starts to happen. The rice grains in the intense heat expand and turn white. In no time at all the black sand appears to be producing a white foam and if you think they go snap crackle pop in your cereal bowl, well you've heard nothing. The sound of the rice "crisping" is like an explosion. After about 30 seconds you have a cauldron of rice crispies, plus of course the black sand. The whole lot gets swung over to a sieve, where it is shaken. All the black sand is transferred back to the cauldron for the next batch of rice. What's left over goes on your breakfast table. Fascinating!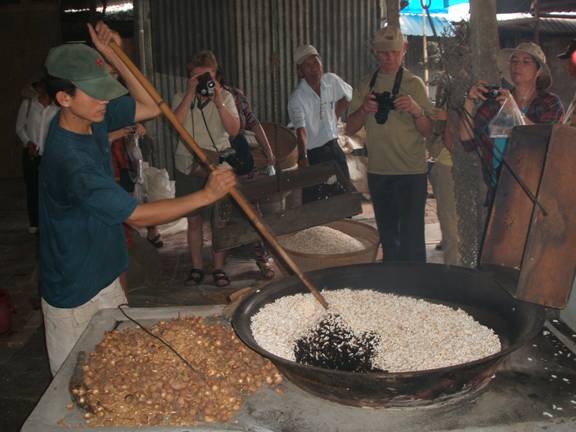 [ snap, crackle and pop!]
After a wonderful day we cross the Mekong again on another ferry and spend the night in the city of Can Tho . We take a tuk-tuk down to the river and I have a crab supper (the results of which you will read about later!).
Which river was the Mekong we haven't got a clue, we just went from river to river in our narrow boat, which housed us in a row of 11 pairs, so it was great for viewing and photography.
At lunchtime on the second day we were "entertained" by a local 3 piece band plus girl singer. It was excruciating. But at least we only had to politely listen for about 15 minutes (we've had to put up with Barry Manilow for far longer).
We crossed the Mekong again by ferry. They are planning a new bridge, and do they need it! The crossing at this point is only about ¾ mile wide. On both sides of the river is a 3 pronged landing pontoon. As we crossed the river in a large transporter ferry, there were no less than 8 more similar sized ferries loading, unloading or ferrying the river.
Normally we like to do our own thing rather than go on organised tours, but when it comes to travelling this complex river system it is definitely worth taking the organised tour.
[The girls have beautiful school uniforms in Vietnam ]
Saturday 18th February: Saigon
Back at our excellent little hotel ( The An An), we plan our next trip to Dalat in the mountains. We need this trip just to cool down, as the temperature since we arrived in Asia has not dropped below 35'C. Also booked our flights back to Bangkok on the Wednesday, with a connecting flat to Trat (near the Cambodian border) where we get a ferry to the little island of Ko Mak for the last week of our holiday. We spend the rest of the day trekking around Saigon 's markets and visiting the Ho Chi Minh Museum (nothing too special).
In the evening it's a dress shop, where Merrie gets measured up for 2 linen suits at a local tailor.
Sunday 19th February: Saigon – Dalat
Full bus leaves Sinh Café at 7.45 to head for Dalat in the mountains. You meet all different kinds of people on these trips, and today we met an Alaskan who when not visiting Vietnam is working the trawlers up near the Arctic Circle. Just 21 years old and called Rachael!
The drive took over 7 hours, including 2 loo stops. The scenery changed from the mad urban sprawl of Saigon, through jungle, to a plateau of beautiful rolling countryside. As we climbed the mountains the slopes were covered with Pine trees. Pine trees?? They shouldn't be here, but apparently they planted these trees 25 years ago to stop the land erosion, after the locals had completely felled the natural forests of the area.
When we arrive Merrie and I part company. She decides to walk around this very pretty mountain town, my stomach decides that I should alternate between the bed and the loo (see Mekong Delta and reference to crab supper). Merrie decides to go from the manic town centre Sunday afternoon markets to walk around the relatively peaceful lake. The locals here are obsessed with the Swan shaped pedaloes, apparently this is the thing to do in Dalat on a Sunday afternoon.
[ Dalat]
Thankfully, as I am too ill to leave the hotel bathroom, Merrie is able to join up with our Alaskan trawler woman and enjoy a pleasant meal and evening in town.
Monday 20th February: Dalat
A pretty awful night's sleep, but after checking that there is a loo at every stop, decide that it is safe to take the guided tour. However, the first stop is the chemists where I am loaded up with an assortment of potions.
Visit a beautiful Buddhist Monastery. Anyone can stay here for nothing for as long as they want. The monks will look after you and feed you. The downside is that you have to get up at 3.00 in the morning for meditation and have your head shaved.
Visit the Chicken Village (something to do with an old fable about a nine toed chicken). This part of Vietnam has a small ethnic population. They are much darker skinned and also appear to be very poor. Visited the local school but unlike most classes of 5 to 7 year olds, the children appeared quite quiet and not as noisy and giggly as you would expect.
Prenn Waterfall……………it's a waterfall.
Dalat Station. About as busy as Phnom Penh 's station. A very pretty station, Art deco again, but it only runs for 20 miles. Used to run all the way to Saigon until the bloody Yanks blew it up.
There were only 4 of us for the guided tour. At lunchtime that number went down to 3 as yours truly gave up and went to bed. I promise never to eat crab again.
Got up in the evening. Could not face spicy food so just had a toasted sandwich. Stayed inside me for all of 5 minutes.
Tuesday 21st February: Saigon - Dalat
7 hours back to Saigon , plus an extra 1 or 2 loo stops that were not scheduled.
The religion of most Vietnamese comes under a fusion of Confucian, Buddhism and Taoism. However, in this part of the world there is a very strong Catholic church and you would simply not believe the number of churches. Between Saigon and Dalat we must have passed between 60 to 100 churches. The churches themselves were enormous and more a cross between a cathedral and a church. And this was just the ones on the side of the Dalat – Saigon main road. How many are there off the main road?
Merrie's back to the dress makers. Two beautiful dress suites ready for her and Clare.
*PLASTIC BAGS – The residents of Asia are not the tidiest people in the world. Whether it's in the towns or countryside or on the river, everyone just throws their litter down or overboard. Perhaps not too bad before the plastic bag arrived in Asia, but now it's a real problem. The amount of plastic on the roadside, in the rivers and fields is astonishing. It is a real mess, a complete eyesore and a pending ecological disaster. The government are really going to have to address this problem.
Wednesday 22nd February: Saigon – Bangkok – Trat
Breakfast – Airport bus – fly to Bangkok - change to domestic terminal – fly to Trat.
Trat has to be the prettiest airport in the world. To greet us off the plane we have a little train, the kind you would get on Blackpool seafront. It chugs along, past a row of pretty green bushes that have been shaped into baby elephants and we are taken to the open air Pagoda style reception area. The train chugs back to get our luggage whilst the young ladies in the Pagoda sort out our needs. Most are going on by boat directly to the main island of Ko Chang . We are going into the town of Trat , as we will be getting the morning boat to the little island of Ko Mak , some 35k south of Ko Chang. Within a couple of minutes our transport is sorted and we're on our way. This is how all airports should be!
[ Trat Airport ]
Trat is an engaging little commercial town, not a tourist resort. The main hotel (thoughtfully called the Trat Hotel) was I believe the setting for Prisoner Cell Block H. Still, the rooms have a/c, are en-suite and have a telly, and costs 7 quid.
Merrie and I enjoy a lovely evening in Trat market. As the market stalls are closing down, little bars and eateries are opening up for the evening. We just sit out in the warm evening air, drink cold beer and natter all night.
The beer is very strong, so it's back to cell No. 432 and we go out like a light……….until about 2.00 am, when we realise that the a/c has packed up!
Thursday 23rd February: Trat – Ko Mak
We did not sleep well. It was hotter in the room than outside. Never mind, cold shower and we feel much better and we're on our way.
Taxi to the port. 10 miles and the taxi driver charges us £1.40. The girl at the port office is absolutely charming and couldn't be more helpful when it comes to helping us source some accommodation on the island. We look through all the photographs and details of the available accommodation and take her recommendation, the Ko Mak Resort. She phones through and books our bungalow by the water. It's only 9.00 am and the express boat does not leave until 1.00 pm , so we have plenty of time for a coffee. "Those taxi drivers are always giving the wrong times" she says. "The express boat leaves at 10.00. Have a cup of coffee, the shuttle bus will then pick you up and take you directly to the boat" This girl is a real poppet.
Now unlike the notorious Siem Reap to Phnom Penh boat, this one really is made for speed. A beauty of a speed boat. Brand new with 2 x V6 200 bhp engines to the rear. We are the only 2 on board and we fly across the water to our island. Despite the fact that we feel 100% safe on this boat, we are still given and asked to wear life jackets.
By 10.50 we're on the island of Ko Mak . Into our bungalow. Straight out again and into the sea. We spend the rest of the day swimming, sunbathing and drinking (you're right) more cold beer. The resort is lovely. There are only 400 people on the whole island, which is just 26 sq/km. There are only 2 resorts on the north of the island, and we're in the best one. There are about 25 chalets / bungalows all by the water. Also by the water's edge is a beautiful little restaurant, a coffee shop and pizzeria, a shop and most importantly a rotunda bar.
Early evening and we've showered and changed for dinner. We are having drinks at the bar and meet a most charming couple who have also just arrived. They have to be charming, they're Belgian. Belgians may well be the butt of some people's jokes, but when it comes to really nice people, Belgium has far more than any other nation I know.
George and Lillian invite us to go snorkelling with them tomorrow.
Fri / Wed - 24th Feb / 1st Mar: Ko Mak
Spent 7 glorious days on this enchanting little island.
Spent one day touring the island on a 100cc motorbike. Established that we had picked the best resort on the island. Most of the resorts are on the south of the island as it does have a lovely beach. The downside however is the number of sandflies (and there are numerous signs warning you of these little blighters). The accommodation is poorer and there is also no sea breeze. The north of the island is one large and very beautiful lagoon and in the evening there is a gentle sea breeze, and when it's nearly 100'F you need it!
We tour the rubber plantations and coconut palms and needless to say we get a puncture. Fortunately we are near what I assume is the only garage on the island. The young barefoot lad has the back wheel off, with the drive chain and assortment of nuts and bolts all over the place. Shows me the inner tube (that is wrecked), goes off and opens a packet with a brand new one. Puts on the tyre just using his bare feet! Reassembles the wheel and chain mechanism. Tests the brakes and wheel balance, then as he can't speak a word of English writes the price on the ground with his spanner. 100 Bht (£1.40). Including parts.
Spent the rest of our time sunbathing on the beach that was literally right by our front door. Went snorkelling with our new Belgian friends most days. A great area for snorkelling. The 4 of us would dine together. Great breakfasts of fresh fruit, yoghurt, soft boiled eggs, French bread and preserve and coffee. The evenings were really tasty Thai meals, with the main courses costing around 90p. In true Belgian tradition, George could drink his beer and would ensure that jugs of cold Singha beer kept arriving at our table.
So we decide to stay for another week, but unfortunately it never happened. The flight back to the UK the following Friday was fully booked. Ben (who was supposed to come down and join us) decided he couldn't get to Bangkok until the Wednesday (3 days before our scheduled return), so could we leave a bit early and join him? Regrettably we said yes.
But a truly perfect week and definitely going back to this little island.
[ a local resident]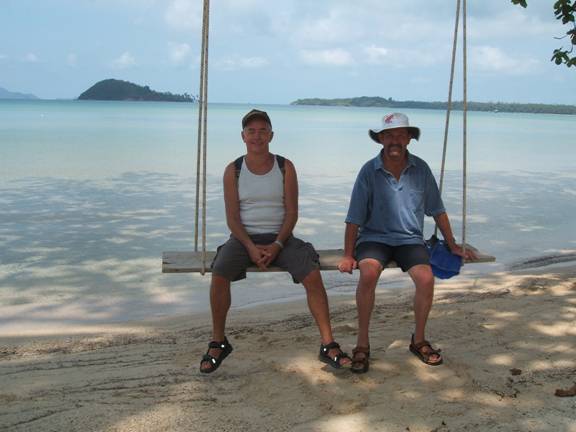 Thursday 2nd March: Ko Mak – Bangkok
Back to the mainland port by speedboat again.
The coach trip is about 3 to 5 hours said the chap who we booked it through. Wrong! It's 7 hours.
However, Ben has booked us into a very hotel near Siam Square . We go out for a meal and chose a restaurant that insisted on putting an enormous amount of chillies in every dish. I had the harmless sounding lemon squid. It virtually blew my head off. No excuses needed tonight to drink large amounts of cold beer.
Friday 3rd March: Bangkok
Last day.
Shopping, shopping and shopping.
Early evening and we go for drinks and supper.
Ben then goes off to meet the new love of his life who has just flown in from Saigon . (No we didn't meet her).
We go to the airport to fly home after a great month.
Saturday 4th March: Bangkok – Heathrow - Chardstock
We leave Bangkok with the temperature still at 35'C
Arriving a t Heathrow the pilot announces "clear and dry day………….ground temperature 23'F, -5'C".
Taxi back home. From now on it will always be a taxi. Very friendly and efficient little company from South Chard.
Indoors, house still in one piece, turn the Aga up, time to start planning the next trip to China in October.

first page...
CHINA 2005